Discover more from Rationalist Judaism
Exploring the legacy of the rationalist Rishonim (medieval sages), and various other notes, by Rabbi Dr. Natan Slifkin, director of The Biblical Museum of Natural History in Beit Shemesh. The views are those of the author, not the institution.
Over 4,000 subscribers
A Close Shave With A Hyena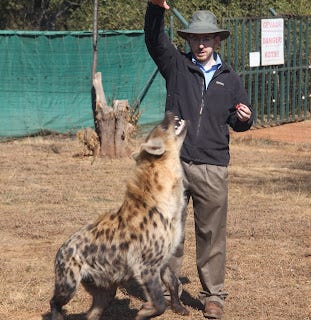 On Friday, I filmed some sequences for the "Zoo Torah" documentary, and I had the thrill of encountering a number of exotic animals - up close and personal. This was the first time that I had interacted with a hyena. (If you're reading this via email, and you can't see the picture above, I recommend that you visit www.rationalistjudaism.com!)

It was an exhilarating, albeit nerve-wracking, experience. Spotted hyenas are exceptionally dangerous creatures, with jaws that are more powerful than those of a lion. Even though this one was trained, there's not really any such thing as a tame hyena. I had a handful of pieces of meat that I was supposed to feed to it. But I was warned to throw the pieces to it, and not to let it eat from my hand - with one bite, it would neatly amputate my entire hand.

So here I was, throwing pieces of meat up into the air as it leaped around me, and it suddenly dawned on me that I was swiftly running out of pieces of meat. Moments later, there was no meat left, and my hands were covered with traces of smelly raw meat. The hyena looked at my hands hungrily, which is the moment at which the pictures below were taken.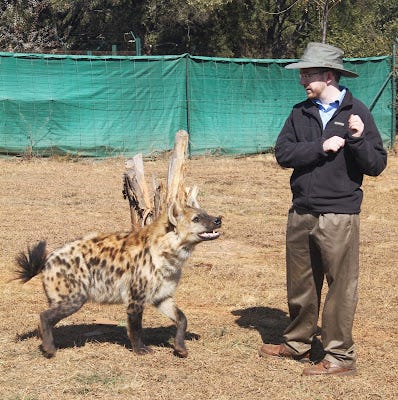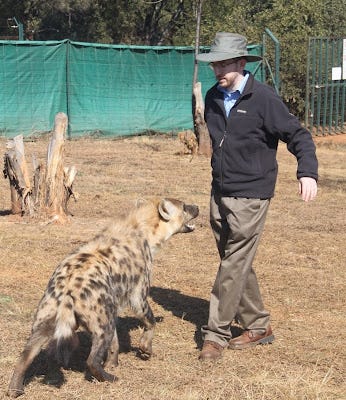 I was anticipating being imminently not very handy, but fortunately the handler, who realized what was happening, immediately lured the hyena away. Phew!

Anyway, during the hyena encounter, I really understood how a certain belief about hyenas, recorded in the Jerusalem Talmud, arose. The Gemara states that the male hyena turns into a female. This belief is not unique to the Sages; it's found in many cultures. Looking at this hyena, I saw why people would think this. Female hyenas are the most masculinized mammals in the world. They are larger, stronger, and more aggressive than males - and even their reproductive organs look like those of a male, as I could plainly see. Anyone looking at this hyena would assume that it was a male animal - and upon seeing it give birth, would assume that it had changed gender.

There's all sorts of strange beliefs about hyenas, and it's not surprising - they really are freakish creatures. Still, I've come up with some really inspirational insights about the hyena in Jewish thought, which you can read about in my forthcoming encyclopedia, and watch on the forthcoming movie!