I had held off on writing about this topic for a few days. But now I think that I had made a mistake about Rav Chaim Kanievsky.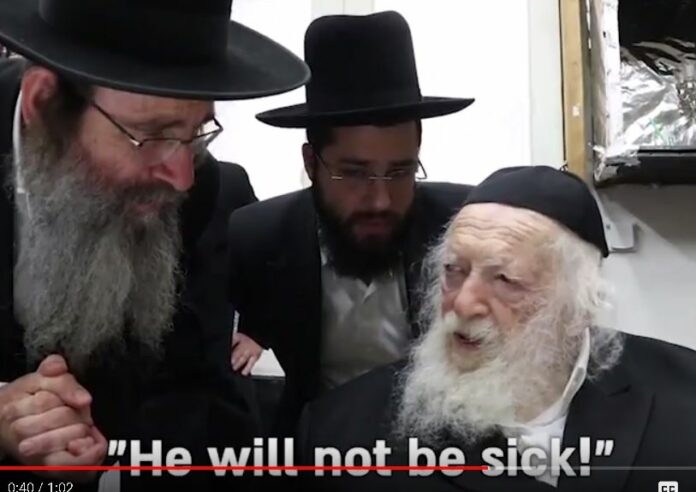 The economic situation of charedi society, always in bad shape because of the low rate of employment, has gotten much worse with coronavirus. In an effort to raise larger donations, the Vaad HaRabbonim has launched
a new campaign
. They are enticing people to donate substantial sums with an incredible lure: A promise from the Sar HaTorah, Rav Chaim Kanievsky, that they will not get sick from coronavirus! As the ad says, "In a short
video clip
, after being asked what donors to Vaad HaRabbanim's cholim fund should merit in return, Rav Chaim answers succinctly: '
He will not be sick
!' A straightforward answer in a time of uncertainty."
Not to be outdone, the Kupat HaIr of Bnei Brak
launched a campaign
that was even bolder. They provided a letter by Rav Chaim's son, Rav Yitzchak Shaul Kanievsky, attesting to his father saying that you and your family can be saved from coronavirus, provided that you donate a "substantial sum" to Kupat HaIr, which they defined as three thousand shekels. The donation will get you a "protection contract," signed by Rav Chaim, to be hung on your wall.
Now, I originally saw these as simply further examples of charities manipulating a Gadol B'Torah in order to raise money. Obviously Rav Chaim had not meant that donors will not contract coronavirus; what he meant was to express a wish/hope/blessing that they should not contract coronavirus.
But now I think I may have been wrong.
In a fascinating and deeply disturbing
interview with Rav Yitzchak Shaul Kanievsky
,
Kikar Shabbos
posed the natural question, of whether Rav Chaim can actually guarantee that someone will not contract coronavirus. Rav Yitzchak explains his father's position in detail, and is insistent that yes, his father meant that donors
will not
contract coronavirus, "just as on Rosh Hashanah we all cry out 'And repentance, and prayer and charity shall remove the evil decree' - it is not written 'perhaps', it is not written 'he will merit', there are no conditions mentioned at all, rather 'shall remove', explicitly."
So how does Rav Yitzchak translate this absolute guarantee into those who donate to Kupat HaIr? He first explains that those who are Divinely decreed to contract coronavirus will find themselves divinely prevented from being able to donate to Kupat HaIr - as that would prevent the Divine decree from being imposed:
"Hakadosh Baruch Hu runs the world and knows what to put in the heart of each and every person, and as an example, if it has been decreed that a person should become sick, and Hakadosh Baruch Hu does not desire him to possess the merit of "one measure corresponding to another", Hakadosh Baruch Hu sets up blockages for him so that he will not donate to this fund for all sorts of reasons, either he forgets or he doesn't understand or (Hashem) causes that it will not be possible for him to do so etc."
So, if you're lucky enough to be spared the Divine prevention from being able to donate, you'd better take advantage! That means that God has decided that you
can
merit protection.
But Kikar does not leave it at that. They ask that there are those called "rationalists" who find Rav Chaim's guarantee difficult to accept. After all, there are so many people in Bnei Brak who donate to Kupat HaIr. Surely it should be possible to shut down the hospitals and cemetries!
Rav Yitzchak first responds by expressing his dislike of the term "rationalists":
"I wouldn't call them "rationalists", rather these are people to whom a stain of heresy and enlightenment has become attached. This was the way of the maskilim in every locale, to mock and render ridiculous the words of our rabbis, the Gedolei haDor, may their merit protect us."
Did you get that? If you question this promise, you're an
apikores
. But the interviewer still presses the point and asks how there can be such a promise. So Rav Yitzchak answers as follows:
"My father, master and teacher shlita, frequently points to the explicit words of the Mishnah Berurah 158:38 regarding the saying of Chazal that "one who is careful about netilat yadayim with an abundance of water, is given handfuls of goodness", regarding which the Mishnah Berurah writes "and one who is careful about this and does not become wealthy, it is because his deeds prevent this". And so it is regarding ma'aser.
"And my father, master and teacher shlita regularly says (apparently in the name of the Chazon Ish and perhaps this is the intent of the aforementioned Mishnah Berurah), that sometimes a person deserves wealth as a result of being particular about ma'aser etc., and subsequently he deserves to be punished, and if he would not have the promise and the merit for wealth he would have received a different punishment, and now he is punished by not receiving the promised wealth. So he did, in some sense, receive the wealth, but afterwards he was punished and it was taken away. If he would not have had the merit for wealth, his not being wealthy would not be considered a punishment, and he would receive another punishment, and only because he deserves wealth is the lack of wealth considered a punishment.
"And so too can be said regarding the words of my father, master and teacher shlita, when a person has a merit through which, measure for measure, he will not become sick. If afterwards perhaps he deserves a punishment, he would become ill, Heaven forfend, if he did not have the merit that there should be no ill people in his home, and there would only be the punishment of the sickness itself. Now that there is the greater punishment in (also) losing the merit that there should be no ill people, and thus in the calculus of punishments he has gained (by one sickness fulfilling two punishments). My uncle Maran HaGaon R. Yitzchak Zilberstein shlita has already said that there are those who lose the merit afterwards, like the aforementioned Mishnah Berurah."
Here we have a contrived explanation as to how although your donation has totally earned your protection from coronavirus, as promised, you nevertheless can still receive coronavirus due to other sins that you have committed. But, look on the bright side - by also losing the merit for your donation, you thereby also received punishment for other sins, and thus without coronavirus and your donation, you would otherwise have received even
more
punishments! (Confused? You're not the only one. No wonder that Rav Chaim is
still having daily minyanim in his home
.)
And thus, says Rav Yitzchak, it's totally accurate for Rav Chaim to guarantee that donating to Kupat HaIr will save you from coronavirus. Because it will! Unless you have a sin. In which case you're still better off having a merit that can be traded against that sin's punishment.
So really, giving to Kupat HaIr is no different than having any other merit. And everyone has sins. And so giving to Kupat HaIr is actually no protection whatsoever against coronavirus. Except that it's heretical to say that! Rav Chaim said it is guaranteed to save you!
This is, of course, the perfect recipe for taking advantage of people with false promises. In fact, it's eerily like the description of the false prophets who brought about the corruption of the Jewish People and the Destruction of the Temple. They would make prophesies to people, and when the prophesies did not come true, they would contrive an explanation to account for it. There are countless people who are taken advantage of by such deceptions. And, of course, on a national level, it's essentially the same as the deception that the Torah study of charedi yeshivos (and nobody else!) brings critical protection from military threats.
It doesn't really make a difference if Rav Yitzchak is accurately reporting his father's position. Rav Yitzchak himself, as the son of Rav Chaim, is certainly part of the Daas Torah system, the system that is trumpeted as the Ultimate Authority by Mishpacha and Ami and Agudas Yisrael and ArtScroll. And here we have the system preying upon people's fear of corona to offer false promises of safety, with the threat of stigmatization and delegitimization if anyone questions these promises - despite the fact that the "saints" offering these promises are the very people whose badly mistaken promises caused the broad spread of coronavirus in the first place! אלה אלהיך ישראל.
(If you'd like to subscribe to this blog via email, use the form on the right of the page, or send me an email and I will add you.)