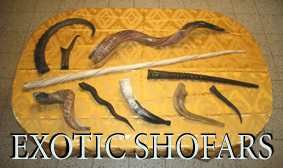 Today's page of Daf Yomi, Rosh HaShana 26, discusses different types of animal horns that are used for shofar. If you'd like to better understand this topic, you can read my illustrated monograph,
Exotic Shofars: Halachic Considerations
, which you can freely download at
this link
. If you're not learning Daf Yomi, it can be interesting study material for Shavuos.
Chag sameach!